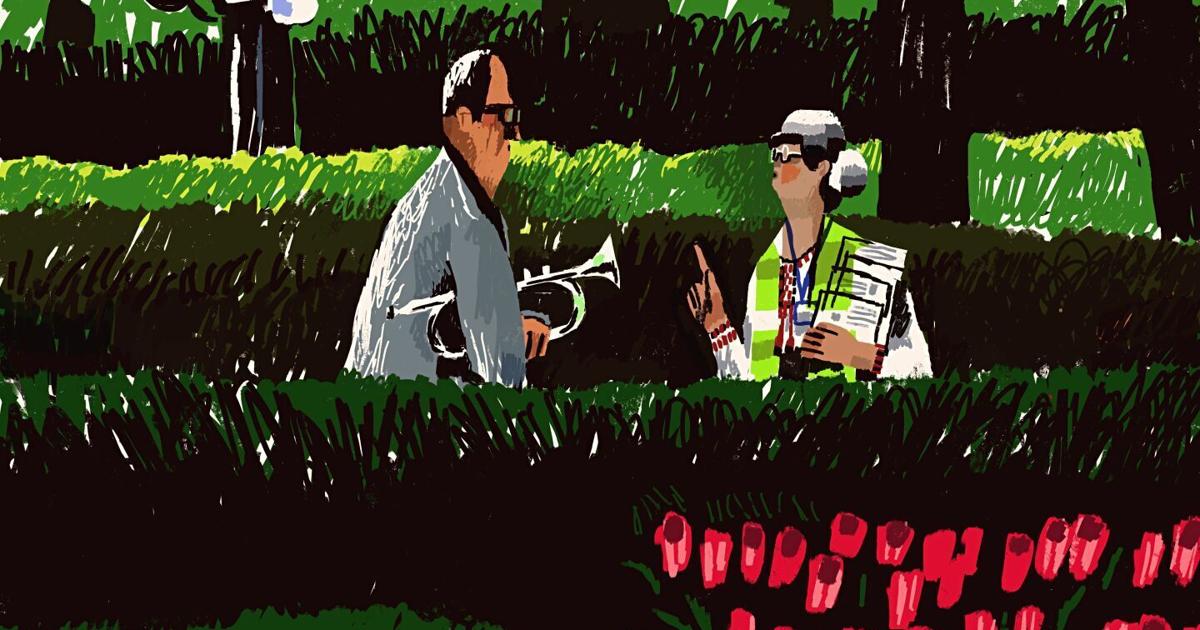 Stoughton Art Gallery opens exhibition to raise funds for Ukraine | New
Kyrylo Beskorovayny came to Cambridge from Ukraine as a high school student in 2010. In the small Wisconsin town, he struck up friendships with Katherine Simdon and Augie McGinnity-Wake, which continued long after he returned to his native country. .
When Russia invaded Ukraine earlier this year, Beskorovainyi asked his friends in the United States for help.
In response, Simdon, now owner of Open Space Gallery + Gift in Stoughton and McGinnity-Wake, planned an art exhibit by local and Ukrainian artists to raise funds for military and humanitarian aid to the country. The proceeds will be divided between the artists (45%), Ukrainian needs (45%) and the gallery (10%).
Friday, Overt Space organize a reception for the "We Stand With Ukraine" exposure. The gallery, located at 130 E. Main St. in Stoughton, will be open from 6 p.m. to 8 p.m. The exhibition will be presented until September 24.
Participating local artists include Simdon, Jill Stevens, John Palahs, Kathleen D'Angelo, Ray Zovar, Xizhou Xie, Tamara Tsurkan and Nastia Craig.
Ukrainian artists in the showcase include Sergiy Maidukov, Zhenia Olinuk, Art Studio Agrafka and Marysya Rudska.
Beskorovayny said he was very grateful for the support from the US government and its citizens. He receives photos of Ukrainian flags on cars and houses, and sees people participating in other fundraising activities.
"Our country is fighting for its own freedom and independence, but in a way we are also fighting for the whole world," he said. "Because the Ukrainian victory will show that such barbaric occupations cannot happen in the 21st century, dictatorship cannot defeat democracy."
Art exhibition planning
When Simdon started planning the event, she was adamant about getting the performers paid for their hard work and talent.
"As an artist myself, I'm so often asked to donate artwork as if there isn't enough value to get paid and donate money," Simdon said. . "As a society, we underestimate the effect of art. We need to change that, starting with hiring local artists and paying them.
McGinnity-Wake said the cost of artwork ranges from $30 to $4,000.
"There's a whole range of prices," McGinnity-Wake said. "Ukrainian art will be prints, so you can get prints in different sizes very affordable.
"A lot of local art will be original pieces, which will be a bit more expensive, but you can own an original piece of art. I think that's pretty neat.
Art helped during times of stress
Nastia Craig, one of the local artists in the exhibit, moved to the United States from Ukraine in 1998 and has lived in New York State, Long Island and Madison. The majority of his family still resides in Ukraine. His first reaction to the war was pure shock.
"I was just watching," Craig said. "Just watch the events unfold that day. I just remember holding my breath in anticipation that something horrible was going to happen. They showed cities with thousands and thousands of tank units and heavy equipment.
"I thought they were just going to swallow the whole country, to be honest."
Craig will feature six works of art in the exhibit, all of which were created during the time the war was taking place. She named the rooms based on her thoughts, feelings, and reflections on what was going on.
"Mariupol's Last Floweris one of his pieces for sale. It commemorates the city of Mariupol, located by the sea, which the Russian invaders largely destroyed.
Craig used his artwork to help him navigate the emotions of watching the ongoing destruction in Ukraine. She hopes her work will help the Ukrainian people and their army to defend their country.
"When the war started, I felt helpless, like I was just watching it," Craig said. "But now I know that the work I did to stay sane during this time can help the Ukrainian military, which is very important to me."