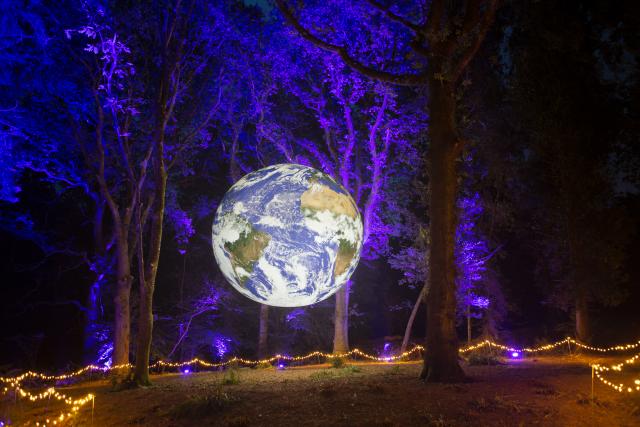 Out of this world festival artwork
The art of the Rockhampton River Festival will be out of this world, with an international tour of Gaia artwork taking pride of place outside the Rockhampton Museum of Art.
Mayor Tony Williams says festival-goers will see our planet like never before with artist Luke Jerram's Gaia.
"Visitors will be able to gaze at Earth as if from outer space, without ever having to leave the atmosphere," said Cr Williams.
"At a range of seven meters, Gaia is 1.8 million times smaller than the real Earth, with each inch of the internally lit sculpture describing 18 km of the Earth's surface.
"By standing 211 meters from the artwork, the public will be able to see the Earth as it appears from the moon."
Artist Luke Jerram hopes to invoke the bigger picture effect in everyday people – a sense of awe at the scale of our universe that often inspires a renewed awareness of the fragility of life.
"I hope that visitors to Gaia will be able to see the Earth as if they came from space; an incredibly beautiful and precious place. An ecosystem that we urgently need to take care of – our only home," said Luke.
Advance Rockhampton Executive Director Mr Greg Bowden said this year's festival features a strong program of art installations, performers and cultural experiences never before seen in Rockhampton.
"As a free festival, the community of Rockhampton should be extremely proud of what is on offer as they invite friends and family to stay for the weekend of festivities," Mr Bowden said.
The festival, which will take place October 7-9, will stretch along Quay Street from Fitzroy to William Streets and this year will take place on East Street in support of our CBD traders.
Festival-goers are encouraged by the council to explore the brand new Art Link at the Rockhampton Museum of Art via Quay Lane and on East Street for a hive of live music and markets on Saturday and Sunday.
For more festival information, go to rockhamptonriverfestival.com.au or follow Rockhampton River Festival on Facebook to stay up to date with the latest news.
Entrance to the Rockhampton River Festival is free.