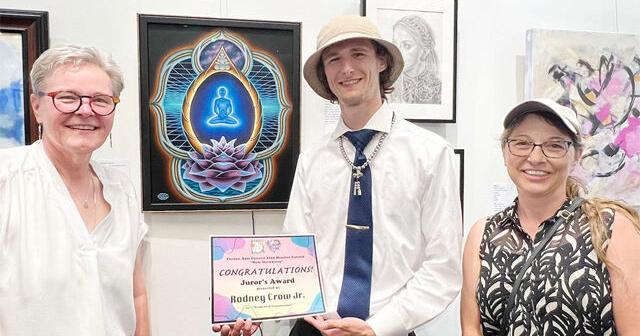 New exhibition opened at Fenton Art Gallery | News for Fenton, Linden, Holly MI
Fenton— A new art exhibition has opened at Cause & Affect Gallery featuring works by members of the Fenton Arts Council who have taken a new direction in their works.
A crowded reception on July 9 officially opened the jury members' exhibition titled "New Directions" for the 31 artists with 40 works of art. A wide range of artistic mediums are on display, including drawing, fiber, mixed media, painting, photography, pottery, sculpture and watercolor. These artists have all taken a new direction in their works, according to a press release from the Cause & Affect Gallery.
"The welcome was great. The majority of artists were present at the reception and over 100 people attended the opening day in total," said Annie Anglim, Gallery Owner, Vice-Chair of the Fenton Arts Council and Member of the Fenton Arts & Cultural Commission.
The exhibition runs from July 9 to September 3.
To be shown in this exhibition, the artists had to choose a medium or a technique different from what they usually do.
Anglim said some of his favorite tracks are Kimberly DeVoe's "Metallic Elephant", Liz DeVree's "Gone But Not" and Kelly O'Neill's "Lean In".
"Rodney Crow Jr. has a wonderful play, 'Windows of Consciousness.' He actually cut the canvas to reveal another canvas that was illuminated behind it. It was thought-provoking and brought a different level or direction to the art," she said.
Anglim represents over 70 artists all from the state of Michigan and many of them are local. The gallery hosts numerous exhibitions throughout the year.
"I hope people who come to the gallery feel a sense of community here. This is definitely represented on our community wall where everyone is welcome to make a piece of art to add to the wall. We have artists aged 2 to at least 89 whose work is there," she said.
On the community wall, which is inside the Cause & Affect Gallery, are dozens of small painted canvases. The Fenton Arts Council brings them to events and invites the public to paint them, then they are placed on the hallway wall.
"There is a representation of art by everyone. We intentionally sought out BIPOC (Black, Indigenous, of Color) and LGBTQ+ artists. These people have not been well represented in galleries in general and I hope to have a diversity of art from everyone," she said. "We are a gallery that also wants to tackle difficult subjects. We have addressed gun violence in schools, ability (not disability), violence against women, identity and we have planned a number of others. Art has the ability to be a common denominator. If we can discuss difficult topics around art, then we can see how we can make changes.
The Fenton Arts Council – creating, supporting and promoting all forms of art and culture in our community for over 40 years: visual – musical – scenic – literary – integrated with technology.
The Fenton Arts Council continues to be an all-volunteer organization, based in Fenton, 501(c)3. They create and produce an annual series of community ART events called "The Arts Are the Heart" (AATH) and are free to all participants.
They are led by members of the Fenton Arts Council Board, general members and community volunteers. They are funded by grants, donations, sponsorships and memberships. This program is sponsored by the Greater Flint Arts Council Share Art Genesee Grant Program, made possible by the Genesee County Arts Education & Cultural Enrichment Millage Funds. Your taxes at work.