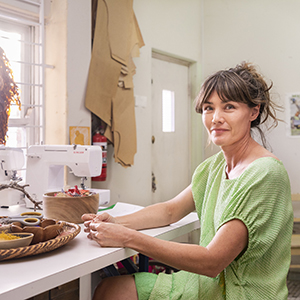 Local talent bound for an art gallery – Logan City Council
Memories of growing up in the town of Logan will be revisited when Brisbane fashion designer Helen Miller hosts an exhibition at the Logan Art Gallery early next year.
Raised in Shailer Park in the 1970s and 1980s as the daughter of a Japanese mother and Scottish father, Helen brought her SOOKii exhibition at the gallery from January 27 to March 11.
The face behind the SOOKii clothing brand is among the local and interstate artists who will be part of the gallery's recently unveiled 2023 program.
Helen uses textiles, theater masks, costumes and digital prints to highlight themes of multiculturalism, cultural identity and sustainability.
Her gallery exhibit will feature limited-edition digital prints, theatrical masks and costumes, and a collection of iconic ready-to-wear silk dresses from the SOOKii archives.
SOOKii is a variant of the Japanese word suki, meaning a taste or fondness for something.
Clothing, as well as plays created from recycled textiles, will hang from the gallery's ceilings and adorn the walls.
Helen said she was excited about the opportunity to exhibit her work at the Logan Art Gallery.
"After creating for over 20 years in Brisbane, I feel a sense of accomplishment to be able to exhibit where I grew up and where I was shaped as a person," she said.
"My show also reflects my multicultural upbringing at Logan."
Helen is influenced by her Japanese mother's post-war and immigration experience and has reinvented vintage Japanese kimonos into clothing, costumes and ready-to-wear items.
She said she was proud to return home for this exhibition.
"You spend your young life wanting to move, not knowing what might happen.
"And then return after all these years with an exhibit that celebrates the highs and lows of my life experiences and reconnects with my upbringing in the culturally diverse melting pot that is the city of Logan."
City Lifestyle President Councilor Laurie Koranski said the 2023 program provides the community with the opportunity to explore a wide range of artistic experiences.
"We are keen to nurture and explore the diversity of work by artists like Helen Miller with strong ties to the town of Logan, supported by major traveling exhibitions from across Australia," said Cr Koranski.
"The program will particularly highlight the wealth of talent we have in the city with a diverse range of talented artisans, designers and makers."
Another key exhibition in 2023 will feature portraits by artist Woodridge Jun Chen from the annual Archibald Prize exhibition at the Art Gallery of New South Wales.
The Logan Art Gallery exhibition will feature the nine portraits Jun accepted into the prestigious annual exhibition between 2006 and 2021.
Jun came closest to Archibald fame in 2017 when his painting of the late art dealer Ray Hughes was named runner-up.
Other highlights of the 2023 program include:
To the light by Hopewell Collective.


Logan's Pride by Pamela See.


Interlace by contemporary Australasian lacemakers.


Confused by NETS Victoria.


Landscape paintings by artist Mei Mei Liu of Rochedale South.
The full program will be available online later this year.
Back to news list