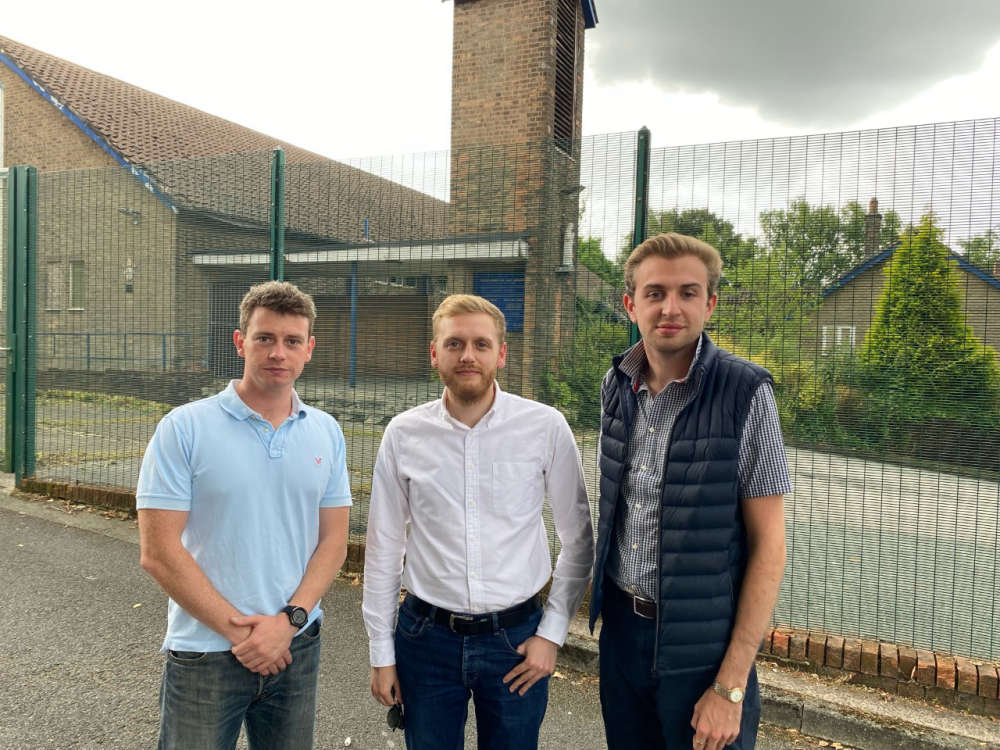 Councilors call for Catholic artwork to be saved – Quest Media Network
(left to right) Councilors Dan Costello, Luke Lancaster and Max Woodvine.
Three councilors have called for a mural depicting the crucifixion of Christ to be saved from vandals by being moved to Oldham Gallery's 'forever home'.
The work, designed in 1955 by George Mayer-Marton, shows the crucifixion and sits above the altar in the Church of the Holy Rosary on Fir Tree Avenue.
It has been listed Grade II by the Department for Digital, Culture, Media & Sport with advice from Historic England.
The Hungarian, Mayer-Marton, fled Nazi Germany to Britain.
It was listed after tests on the mural, conducted by the artist's descendant, which concluded that the original fresco is completely intact under the modern paint.
It is one of two ecclesiastical murals by Mayer-Marton that still survive in situ and the only one that incorporates both frescoes and mosaics. The Victoria & Albert Museum described the artwork as an "outstanding example of post-war wall art and the mosaic revival in Britain".
Heritage Minister MP Nigel Huddleston himself said: "This magnificent mural in Holy Rosary Church deserves Grade II listing. This will protect a one-of-a-kind mural and serve as an important reminder for generations of the artist's escape from Nazi persecution.
In their letter, councilors Dan Costello, Luke Lancaster and Max Woodvine wrote: "We write as three Catholic councilors serving on Oldham and Tameside councils to express our growing concern over the future of the mural currently housed in Holy Rosary Church, in the Medlock Vale Ward of Oldham, threatened with vandalism.
"This socially and historically significant mural has now been Grade II listed…Historic England has underlined the significance of this mural and has requested that action be taken to ensure its survival as a matter of urgency. Therefore, I ask you to cooperate in the protection and preservation of this important and unique piece of our heritage."
They concluded their letter by asking for a discussion of what steps the diocese and council can take to ensure the mural is "appreciated by people of all faiths and none for years to come."
The Holy Rosary was Cllr Dan Costello's childhood church, where he received the sacraments and attended the nearby school.
Read more from the Oldham Reporter
Click here for more breaking news