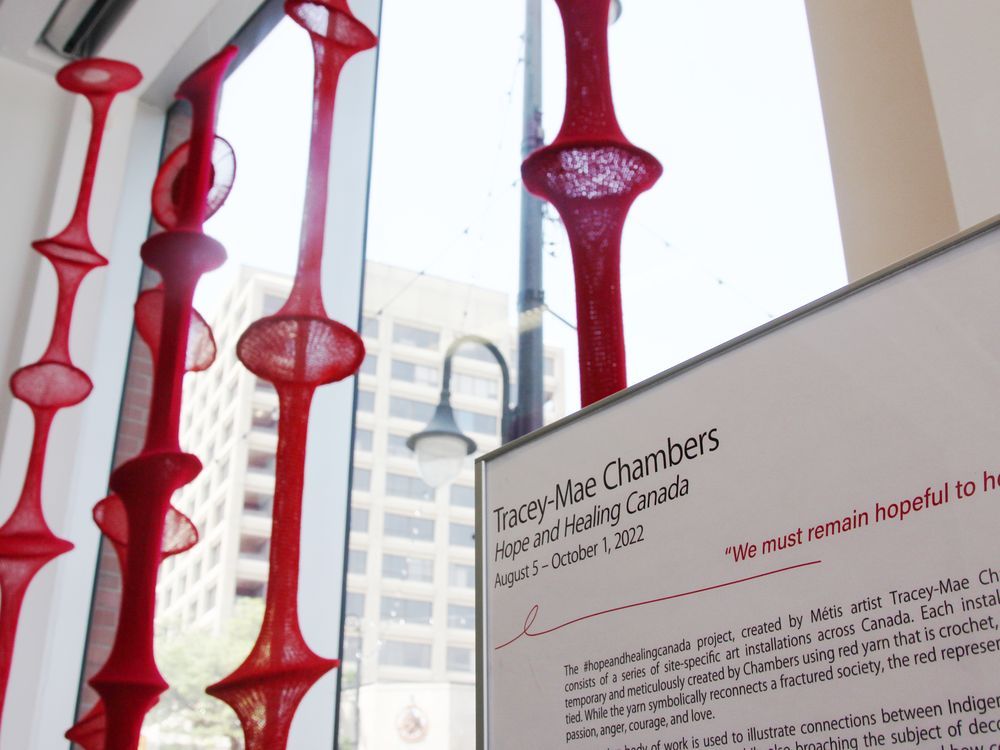 Wire art on connection, decolonization: artist
Content of the article
Fourteen tubes of red thread suspended in the Judith and Norman Alix Art Gallery until October will finally be threaded through the treetops of a forest.
Content of the article
Tracey-Mae Chambers doesn't say exactly where, and the Sarnia exhibit is just a small sample of all the tubes she made for the eventual installation in the forest.
"I think there are about 70," said the Hamilton Métis sculptor, who has been creating site-specific wire art across the country for about a year.
She already has dates booked in 2024 to continue her Hope and Healing Canada Tour.
The installation in Sarnia is her 103rd so far, she said.
Wire and metal ring work focuses on the connections between individuals, often represented by single wires, and the connections between communities and families, she said.
These connections are needed to decolonize public spaces like art galleries that often don't tell the stories of Indigenous peoples or other traditionally marginalized groups, she said.
When presumed unmarked graves of children who died at a residential school in Kamloops, British Columbia, were discovered more than a year ago, the reaction that followed illustrated a vast disconnect between Indigenous communities and communities of settlers, she said.
The fact that thousands of children died in residential schools had previously been documented by the Truth and Reconciliation Commission and was well known in Indigenous communities, she said.
"But it seemed like a big surprise to settlers in general, Canadians in general," Chambers said. "I was shocked by that. I hadn't realized there was such a disconnect between the two communities.
Content of the article
Her artwork aims to start conversations to improve connection and ensure that Indigenous history, such as the impact of Canada's residential school system, is not ignored, she said.
"That's basically what the job is – illustrating that there is a connection between our communities, but it's broken and the only people who can fix it are us."
Red was chosen because it's a racial slur, but also because it represents power, passion, anger and blood, she said.
The artwork also speaks to the disconnect between people that happened during COVID-19, she said.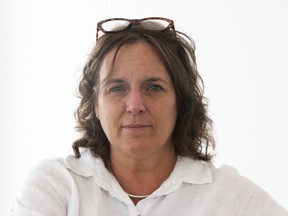 "So the work is always based on desire, geometric shapes and things like that, it's those structures that, if you cut one of those lines, you don't have that shape anymore, it falls apart ."
Her installation in the Sarnia gallery incorporates the height of the windows in the space and aims to represent "larger family groups and larger parts within a larger community," she said.
A conference call with Chambers is scheduled for September 22 at 7 p.m. People can attend in person, but it will also be streamed via Zoom, curator Sonya Blazek said, noting the link will be available closer to the date on jnaag.ca.
The Hope and Healing Canada installation from Aug. 5 to Oct. 1 will be illuminated in the evening, she added, saying she was delighted the gallery was hosting the exhibit.