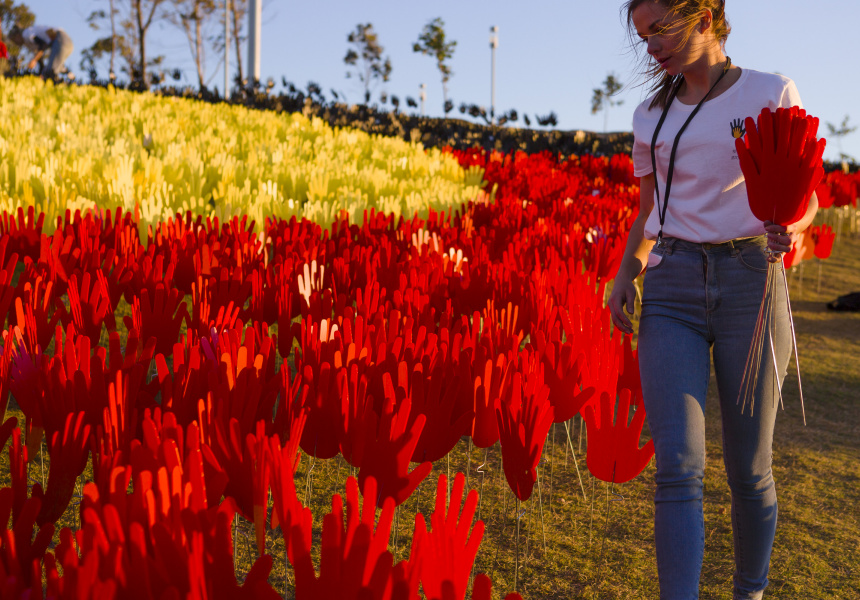 The Sea of ​​Hands interactive artwork at the Royal Botanic Garden
Ten thousand handprints are needed to create a new large-scale artwork by an award-winning Indigenous artist – here's how you can help bring it to life.
Handprints of different colors – yellow, blue, red, green, black and white – form huge banksias that can be seen from the sky in a new work by award-winning artist and Yaegl woman Frances Belle Parker. It's called The sea of ​​hands, and she designed it to be an interactive experience. Now is the time to bring it to life.
The Royal Botanic Garden Sydney, in partnership with Aboriginal and Torres Strait Islander reconciliation organization Antar, is calling on thousands of Sydneysiders to come and leave their mark on the outdoor facility.
Over 10,000 colorful handprints have been placed on wooden stakes – all you have to do is grab one, find a designated spot on the lawn for your chosen color and plant it among the other handprints.
From a bird's eye view, the handprints paint a picture of banksias in their regeneration phase, with vibrant colors coming out of the beaks. The native plant symbolizes resilience, as banksias grow back stronger after being razed by fire.
The installation premieres April 5-9, with the full art exhibition showing April 10-16.
rbgsyd.nsw.gov.au