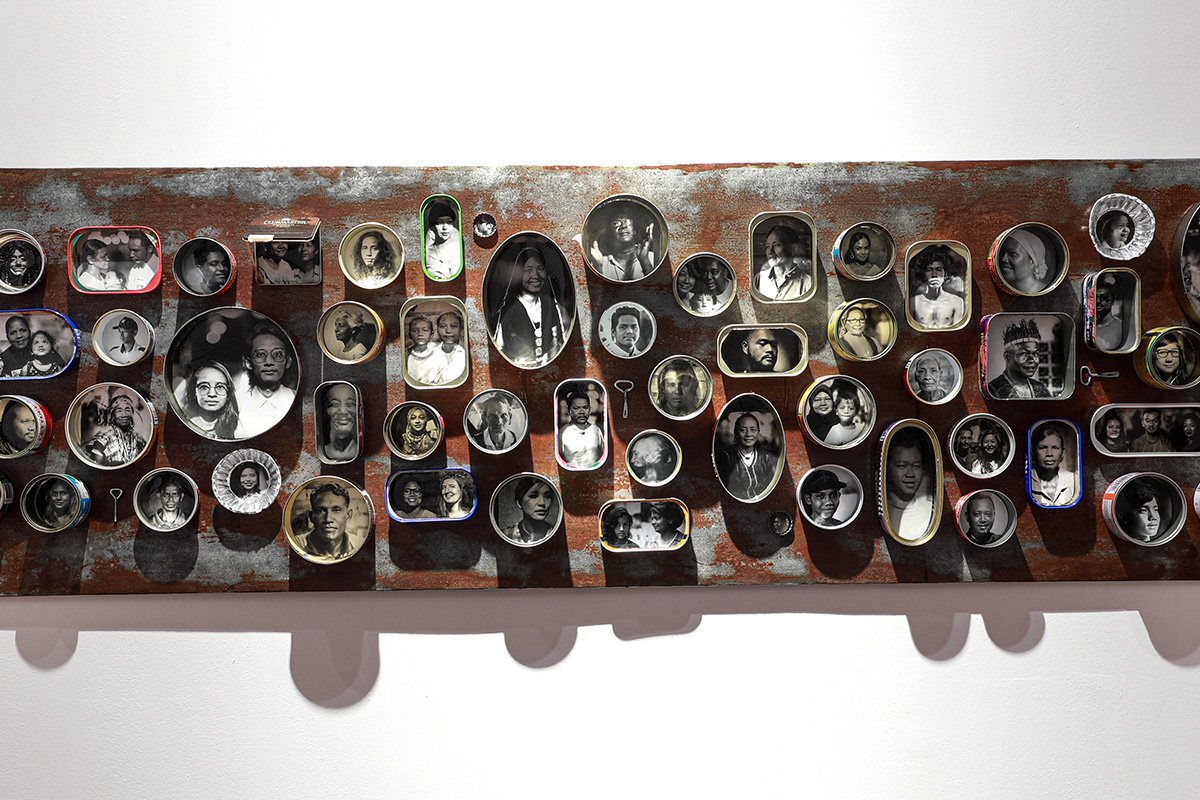 On the home front: The National Art Gallery of Malaysia reopens in 2022 with a brand new look, state-of-the-art services and an exciting line-up of exhibitions.
Jeffrey Lim (born in 1978, Kuala Lumpur)
Dinding Potret Kanta
2014 – 2017
Hand print on silver resin coated paper, tin cans, mounted on oxidized zinc panel
After a series of extensive refurbishments which began in August 2020, the National Art Gallery is delighted to reopen its doors in mid-May 2022 with a stellar range of on-site and online exhibitions for everyone to enjoy. delight in it." – YBhg. Dato' Indera Dayang Fatimah Tom Abangsaufi, Chairman, National Visual Arts Development Board (NVADB)
– The National Art Gallery reopens in mid-May after undergoing a panopticon renovation which began in August 2020. These renovations include an all-new gray asphalt roof and, to provide viewers with an all-encompassing gallery experience, the 7 existing main galleries (Reka, Tun Razak, 2A, 2B, 3A, 3B and Portrait Gallery) is further enhanced by a brand new gift shop, cafe and the fully equipped "Art Hospital".
The National Art Gallery, affectionately known to Malaysians as 'The Broom', is set to wow art lovers with a selection of specially curated exhibitions: NUSA, SINGLE and a digital art exhibition 'WALKING THROUGH A SONGLINE" to name a few.
NUSA
Conceived last year as a primary entry point to 2022, NUSA includes more than 400 works drawn from the National Collection and highlights cross-sectional segments that include historiography, mythology, the social fabric of superdiversity, and the local wisdom presented in 5 galleries – Reka, Tun Razak, 2A, 2B and 3B. NUSA explores superdiversity-related impressions in national and regional contexts, curated to provide engaging cognitive content for visitors, and emphasizes visual perceptions of relevance, curation, interactivity, and digitization .
The selection of works will include masterpieces steeped in the idea of ​​NUSA, such as River Pergau State of Kelantan, painted in the 19th century by William Samwell; Kampung Nelayan, (Fishing Village) a distinguished Chinese brush painting by Chung Chen Sun which has been listed as national heritage under the National Heritage Law of 2005; an iconic collection by pioneers Latiff Mohidin, National Laureate Syed Ahmad Jamal, Redza Piyadasa, Chuah Thean Teng and the most recent acquisition, a contemporary interpretation of the Enrique de Malacca Memorial Project (2016) by Ahmad Fuad Osman.
SINGLE
A nod to accomplished young contemporary artists who have created high-impact, solid works from striking and monumental perspectives, and made significant contributions nationally and internationally, SINGLE spotlights new works spanning sculpture , mixed media, installation and two-dimensional offerings. This year, the 3 artists selected for SINGLE are Shafiq Nordin, Red Hong Yi and Saiful Razman.
Presented in the main hall of the Museum, these works are intended to "welcome" visitors and welcome them for an exciting year ahead. This exhibition also serves as a platform for research and dialogue and will be accompanied by support programs. SINGLE debuts in mid-May and ends in January 2023.
WALK IN A SONG LINE
Organized by the National Museum of Australia and Mosster Studio with the National Art Gallery, this collaboration, with support from Aboriginal Traditional Keepers, the Australian High Commission, the Australian Government and the Australia Now programme, is an immersive digital art exhibition which celebrates Australian Indigenous arts, culture and innovation. .
WALKING THROUGH A SONGLINE is a contextual multimedia experience based on an element of the internationally acclaimed exhibition Songlines: Tracking the Seven Sisters from the National Museum of Australia. This groundbreaking show follows in the footsteps of the Seven Sisters Tjukurrpa (Dreaming) through the Western and Central Deserts of Australia as they are pursued. Curated by Professor Margo Neale, Head of the New Indigenous Knowledge Center and Indigenous Curator and Senior Advisor to the Director of the National Museum of Australia, Margo is a co-recipient of 7 Australian Research Council grants in collaboration with the Australian National University, Yale University and the University of Victoria.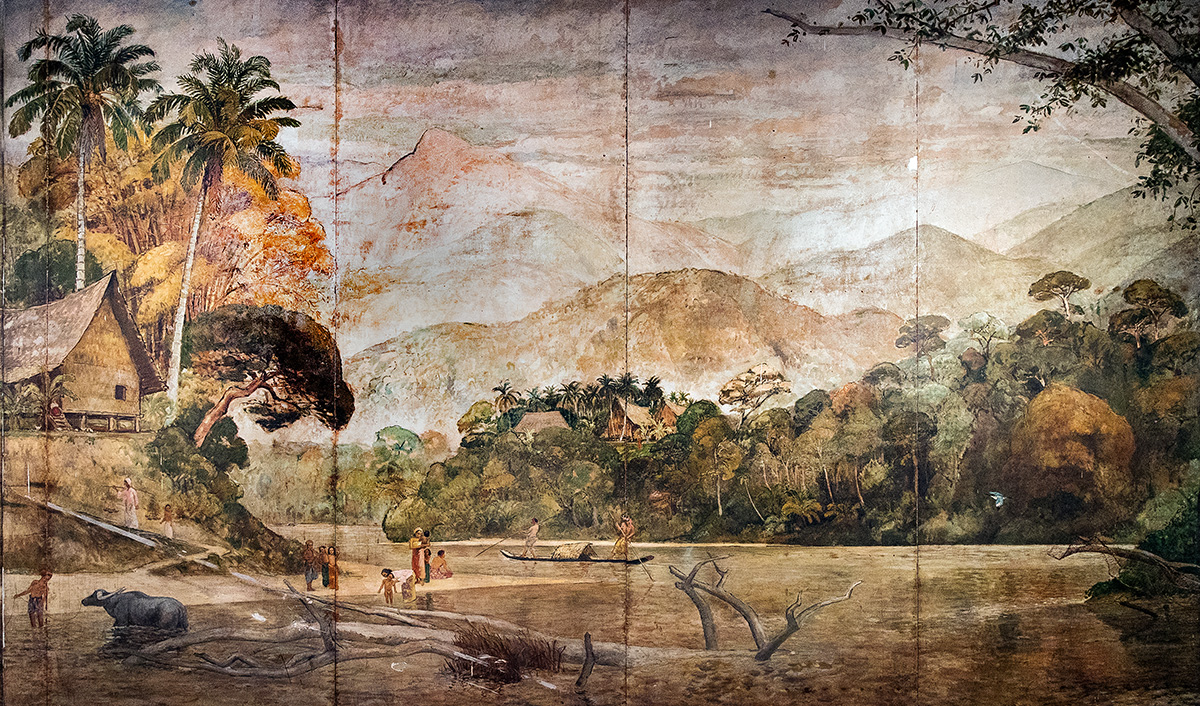 unknown artist
Hotel Lukisan Lama Heritage Station, Stesen Keretapi Tanah Melayu Bhd circa 1940
Oil painting on isorel wood
ART HOSPITAL
Collecting and curating is one of the main business interests of the National Art Gallery. Under Law 724, the institution aims to be the primary repository of the national artistic heritage that collects, preserves, maintains, exhibits, and promotes art and instills awareness, understanding, and appreciation of art.
After more than 60 years, the practice of art collecting has grown exponentially with the increase in the number of artists, collectors in private and public galleries and educational institutions across the country. Inspired by this development, the National Art Gallery formed the National Art Repository and Conservation Center – ART HOSPITAL, offering consultation services, preventive and curative conservation, art condition reports, research on materials and storage of works of art.
Approximately 3,000 works of art from the National Collection are kept at controlled room temperature in the Depot for Works of Art on Paper and 1,500 paintings in various media are kept at the Paint Depot.
Providing first class art conservation services and storage facilities for collectors and artists being the core business of ART HOSPITAL, the conservation of paintings is taken care of by the highly experienced staff of the unit Collection and conservation of the National Art Gallery. State-of-the-art laboratory facilities operating at optimum levels in this 348 m2 laboratory provide treatments such as cleaning, tear repair, image reintegration and lining. The laboratory is equipped with instruments such as the polarized light microscope and X-ray fluorescence which are useful for more detailed conservation work.
A total of 160 pull-out shelves, each measuring 10′ x 11′ are provided for storing works of art belonging to collectors and artists. Each artwork is stored here in accordance with the terms and conditions of the Artwork Repository Rental Agreement and protected by insurance at a certain price.
The National Art Gallery will also announce the winners of Young Contemporaries (Bakat Muda Sezaman BMS21) when it officially opens. This prestigious and coveted competition which began in 1974 was won by Zulkifli Mohd. Dahalan with its flagship entry "Halaman Rumah Kami". In 2019, Samsudin Wahab won the main prize with his historical installation "Rambu-Rambu Memori". Since 2000, the National Art Gallery has held the competition every two years, and for its 26th edition, a new concept has been introduced to adapt to the pandemic situation. "Art on Site" (Seni di Lokasi) gives artists the autonomy to create works in all states of the country, resulting in alternative exhibition spaces in Volta. Entrants' works will not be exhibited at the National Art Gallery, but rather in locations of their choice – this format allows for virtual locations such as links, portals, apps, animated works, performing arts and even more. Along with two main prizes, Young Contemporaries 2021 will award additional prizes, 3 each for Online Visitors' Choice and Onsite Visitors' Choice.
Another exciting introduction to the new Balai is the hybrid space located in the lobby of the administration building where art industry players have the freedom to present their works digitally. The National Art Gallery equips them with televisions and projectors, allowing artists to exhibit and promote their art while engaging potential buyers. This is in line with the National Art Gallery's mission to fuse art with the latest trends.
Founded in 1958, the National Art Gallery is one of the oldest art museums in Southeast Asia and houses one of the largest collections in the region, totaling more than 4,500 works of art. It has held numerous exhibitions since its inception, showcasing selections from its permanent collection and the National Collection of Malaysia, which has been entrusted to the museum.
The National Collection is a vast repository of visual information, encompassing all aspects of human activity. Built over the past six decades, the collection has not only grown into a body of uniquely local knowledge, but also distinctively regional, given Malaysia's position at the heart of Southeast Asia, a sprawling region with a long history of migration and home to diverse Asian cultures. The term "superdiversity" can apply not only to the multi-ethnic population of Malaysia or the peoples of Southeast Asia, but also to the aesthetic aspirations found in the works of the National Collection.
Ameruddin Ahmad, Managing Director of National Art Gallery Sums, "We strive to achieve certain goals with our permanent exhibition: the diversity of this art collection is seen from all horizons of artistic production intentions – artistic expressions, visual narratives, rituals, functions and persuasions. it's also about repositioning the art collection in the exhibition other than the original reasons it was designed for, it's to create new meaning and most importantly to make it still relevant to people who see it now .