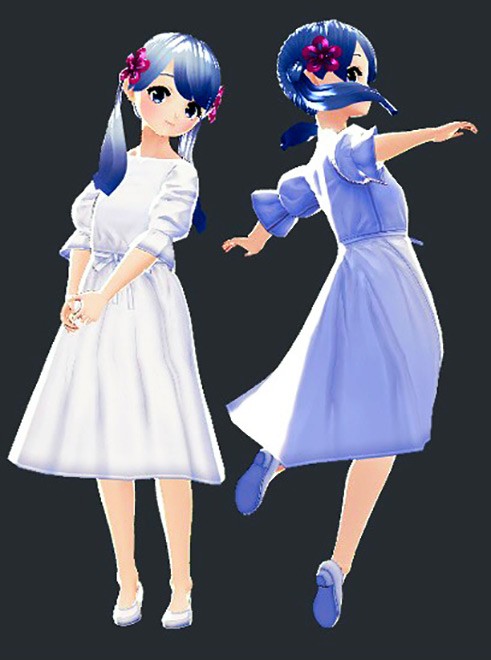 Digital art scams on the rise amid boom in NFT markets
Artist Rei Yumesaki learned in late November from one of her fans that her digital art had been listed for sale on a US-based website without her permission.
Yumesaki had created a 3D model of a cute anime character she calls Tsukuyomi-chan. She shared it with the public online as free material that anyone can use for their own purposes, as long as they abide by the terms of use.
But the character was listed for sale without copyright credit, violating these terms, and was disguised so that no one would know it was licensed material for free use.
"I provided my work for free on the internet to help other people, but I'm sad to see my works being used fraudulently," Yumesaki said.
She is one of a growing number of artists to whom this is happening.
The lack of safeguards and screening procedures in some digital art marketplaces has contributed to the rise of digital art scams, raising copyright issues for artists like Yumesaki who get ripped off when their creations are sold behind their backs.
It also creates a buyer-in-the-know atmosphere for potential customers who may struggle to get their money back after learning that they have indeed purchased a stolen work.
The website where Yumesaki's character was listed is called OpenSea, one of the largest NFT marketplaces in the world.
An NFT, or non-fungible token, is a unique digital identifier that cannot be copied. It acts as a sort of proof of ownership certificate for digital artworks or similar intangible assets.
NFTs are extremely difficult to manufacture or duplicate because they are stored on a blockchain, which is a digital cryptographic ledger.
They allow the possessor to effectively own a digital asset, including photos, videos and short animated clips, music, artwork, video game items, and more.
NFT certificates are traded on websites called NFT marketplaces, such as OpenSea, sometimes for staggering sums.
A digital artwork created by an artist from the United States sold on such an online marketplace for around $69.3 million in March 2021, helping to fuel the rise of online NFT auctions.
But as online marketplaces for digital artwork grow at a rapid pace, the number of counterfeits found and traded is also increasing.
Under the terms of OpenSea, it is forbidden to violate the intellectual property of others and to sell objects obtained in an illicit way.
Nonetheless, items can be listed for sale without going through the screen, so someone who found Yumesaki's works online could have easily listed them on the market.
Yumesaki complained about copyright infringement to the website operator, and soon her work was removed from the site.
"Please pay attention to whether NFT artworks are stolen when you purchase them," Yumesaki said.
A company employee who resides in Gifu Prefecture recently learned this lesson the hard way after purchasing an NFT that turned out to be fraudulent. He bought an NFT for artwork listed on OpenSea at nearly 3,000 yen in early December 2021.
But a few days later, the item he had purchased suddenly disappeared from the website.
When the man looked into the matter, he discovered that the original creator was warning on Twitter that the work had been "for sale without permission".
The man messaged the website operator about compensation, but received no response.
According to Kentaro Okamoto, an attorney who specializes in digital rights issues, buyers of NFT artworks offered for sale without permission could seek damages from sellers in some cases.
"But some buyers would be forced to refrain from filing a complaint because it would take considerable effort for them to initiate legal proceedings," he said.
The attorney also said that many marketplaces set their terms of service to protect website owners from liability for such issues or from having to pay compensation.
Several national IT companies that have launched NFT marketplaces have systems in place to prevent illicit sales.
An NFT marketplace established in April last year called "nanakusa" has adopted a system for registering artists who can list their works for sale.
The website operator conducts online interviews with artists to judge their qualifications and prevent the entry of illicit sellers.
About 600 people have applied for registration so far and about 190 of them have already been accepted.
The "Adam byGMO" NFT marketplace, launched by GMO Internet Group in August last year, has also adopted a screening system.
The website operator confirms the identity of the artists and their artistic background before they can sell their works.
Okamoto said the system is necessary to detect attempted illicit sales.
"Building marketplaces where sellers and buyers can trade safely is important for the NFT market to develop healthily," he said.
(This article was written by Yasuyuki Onaya and Yoshikatsu Nakajima.)