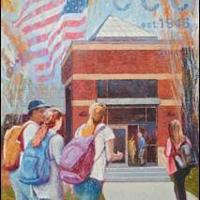 Davis' art exhibited at CCC Art Gallery | Local News
CLINTON — Paintings by artist Larry Jon Davis will adorn the walls of the Clinton Community College Library Art Gallery throughout April.
Davis is a Clinton native. He enjoyed a career as a professional artist and art teacher that spans 60 years. During this period, his works have found their way into many private, corporate, and public collections across the United States. He was also active in various civic arts organizations and often served as a jury member for exhibitions.
Davis began his education at Clinton Public Schools, followed by undergraduate and graduate studies at the University of Iowa, with his master's degree awarded at the University of Jacksonville. During his career, Davis served as an instructor at Clinton Community College.
"My eventual privilege of teaching visual arts at CCC evolved through a series of fortunate events," he said. "After my Bachelor of Arts and a minor in Education from the University of Iowa, I had taught elementary school for a year before being drafted for four years of military service. Returning to Clinton in 1972, I continued as a professional artist while teaching art part-time at CHS.
"So, in the early 1980s, I had the idea for a series of annual serigraphs depicting the four seasons at Clinton's Eagle Point Park. Together with my wife, we shot the first edition. Then, more or less on a whim, I decided to present a proposal to the dynamic new CCC Chair, Dr. Charles Spence. The deal was to share profits from print sales as a fundraiser for the CCC Foundation. The resulting lifelong friendship with Dr. Spence, based on a mutual interest in art, culture, and philosophy, currently led to my first teaching position at CCC.
Popular serigraphs are found all over Clinton Community College and the community.
Davis retired from teaching and university administration at Florida State College in Jacksonville, Fla. nearly a decade ago. He and his wife, Jacquie, moved back to the Midwest and set up his studio at their residence near Galesburg, Illinois.
Davis's paintings have a unique abstract aspect, often blending figure drawing and his extensive travels resulting in landscapes that contain hints of figures. A new painting by Larry Jon Davis, CCC at 75, was unveiled in 2021 to celebrate the 75th birthday in September.
The piece features students entering and exiting the college's main entrance, with features representing a variety of students across generations. The colors used reflect Davis' appreciation for rich, deep hues. Davis commented on this painting: "I eagerly accepted the request for a painting to celebrate the CCC at 75 years. It turned out to be a great opportunity to visualize ancient experiences while emphasizing the college's ongoing mission. Through so many memorable friendships and experiences with administrators, faculty, staff, and students, Clinton Community College has helped define my direction as an artist and teacher. It was a great place to start and now to continue this journey.
"About five years ago I had proof that an old dog can still learn new tricks when I first combined cold wax in my traditional oil painting process," commented Davis about the current exposure at the CCC. "This technique encouraged me to explore a whole new range of layering and texturing methods. Whether realistically or more abstractly, it allowed me to selectively discover colorful and calculated underlays in the finished work. The whole process really opened up a more free and expressive process of creating marks and color relationships.
Visit the Davis website at https://www.larryjdavis.com/collections. The CCC Library Art Gallery is open during college hours. For more information, contact Clinton Community College at 244-7001.